How to Manage Cleaning and Turnovers for Your BnB Property
Airbnb 101
Mar
2020

Hosting is an excellent supplement to your regular income. Plus, you get to connect with other travellers from other parts of the globe. However, it is not always easy.
Being a short-term rental host, whether on Airbnb or any other platform, can be stressful. There are so many things to do, yet so little time. Nevertheless, all the hard work is worth it, especially when you see your earnings at the end of the month.
As a host, you are held to a high standard, particularly when it comes to quality and service. Airbnb has confirmed that cleanliness is one of the highest standards that hosts should meet. Low cleanliness scores can result in penalties.
Cleaning regularly includes after each guest turnover. The process usually involves changing linens, scrubbing tiles, and sweeping the floor. Every time a guest leaves, your door is open for a new one.
Sometimes, you may not have enough time to clean after every guest. After all, being a host is not just about cleaning and maintenance. You have more responsibilities, which is why hosting can become physically and mentally draining. The good news is that it does not have to be as complicated as it sounds.
Several things will allow you to make property cleaning much more manageable. It can also take less time, as well.
Here are BnB Hosts' recommendations for automating your short-term rental property cleaning:
1. Have a To-Do List
When you have everything listed down, maintaining your home becomes a bit hassle-free. Consider writing all the chores that you should do after each rental. You can also do some research, which will help you determine if you missed something.
Some activities do not have to be performed after each guest leaves. For instance, restocking toilet paper may be done when you see that the items available are low in numbers. Some tasks such as replenishing condiments can be done once a month.
You can also write down a list that contains information or requests of specific guests. This way, you do not forget about them while you are busy preparing and waiting for them to arrive.
Another thing that you can do is to create signs or notices. For example, you can ask your present guests to throw the used towels into a basket. This way, you can quickly collect them when the guests leave. Asking people for help, including your guests, will surely save you a lot of time in the future.
Other examples are:
Returning furniture into their original position when done using
Leaving towels in the tub or other preferred location
Wiping benchtops or putting away dishes
Turning off the lights
Removing any perishable food from the cupboard
Be sure that you are clear about these requests, so they know exactly what you are asking for.
2. Hire a Professional Cleaning Company
One thing that you have to accept as an Airbnb host is that your guests will have high standards. Your property will be viewed as the same as hotels. Therefore, your guests expect nothing less than a top hotel experience (which is why it is your job to meet their hospitality standards).
By hiring a professional Airbnb cleaning company, keeping your property sparkly clean will be much easier. Even when you have less time, these pros know what they need to do. They can also take care of the whole turnover cleaning procedures for you.
You can think of them as your cleaning army that will perform different tasks, such as:
Making the beds
Sweeping the floors
Mopping the floors
Cleaning and organising the dishes
Vacuuming carpets
Tidying up the benchtops and cabinets
Taking out the rubbish
Cleaning the bathroom
Wiping all surfaces, including light switches, chairs, and door handles
You can get a report if there are any damages to your property. This way, you can quickly decide how to fix them. You will also know if you need to restock, particularly if you are running low on essentials, such as tissues, soaps, and shampoos.
You do not have to go anywhere else when hiring a property management company. BnB Hosts offer professional cleaning services that guarantee the comfort of your guests while staying in your property. Best of all, you can achieve all these things without lifting a finger.
3. Have Regular Deep Cleanings for Your Property
Keeping your home clean should not just be after each guest leaves. You should also perform deep cleanings every once in a while.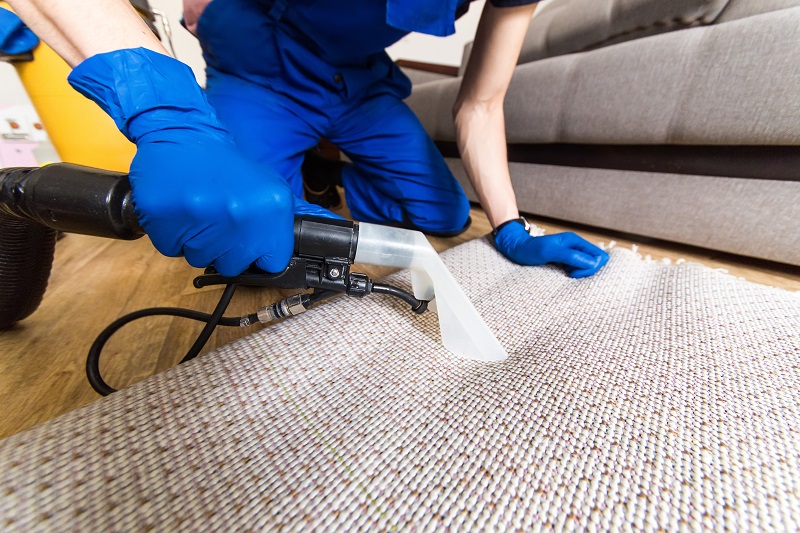 We recommend getting your carpets professionally cleaned once a year. As the term suggests, it is more than just basic cleaning. Deep cleanings are more in-depth and can involve the following:
Dusting and vacuuming windows, ledges that you normally ignore, light fixtures, and cabinets
Descaling faucets and showerheads
Cleaning out aerators
Removing air conditioner or heater covers and cleaning them appropriately (usually with warm soapy water)
Wiping ceiling fan blades
Cleaning the windows, sills, and tracks
Removing cobwebs, bugs, and all signs of insects in the house
Spot cleaning stains on the upholstery and carpets
Eliminating smudges and fingerprints on the doorknobs and frames
Sanitising the waste bins and baskets
Deep cleaning blinds and scrubbing them down
Cleaning couch and chairs, removing cushions and vacuuming them to get rid of pet hair or food
Moving heavy furniture to clean the floor underneath the pieces
Emptying cabinets and drawers and vacuuming each space
Cleaning the ovens, microwaves, refrigerators, and other kitchen appliances
Wiping out the sink to get rid of accumulated filth
Sanitising the dishwasher
Cleaning the bathroom tile grout
Washing the shower curtains, toothbrush holders, and toilet seat and base
As you can see, deep cleaning is indeed deep. The goal is to reach the dirt and grime that you usually overlook in your home. Have the pros do it for you, so you know that comprehensive cleaning is achieved.
4. Make Your Cleaning Process Easier
Whether you will hire professionals or you plan to clean your home on your own, there are a few things that you have to keep in mind:
Never buy poor quality furnishings. They can easily lead to shrinkage, pilling, and colour bleeds.
These consequences not only affect the overall appeal of your property, but they also make your home look untidy.
Have at least three sets of everything, from covers to sheets to towels. One of them is in use, while the other is already up for washing. The third one is your reserve in case a guest asks for another. It is always best to be ready.
Use white linens and towels. Of course, it is not a requirement to go all-white in your home. However, this hue offers a few benefits. To the eyes of the guests, your home is cleaner and professionally managed when everything is white. For you, as the host, it is easier for you to remove stains because you can bleach the fabric.
Go for the right fabric. While it is tempting to go cheap, you can save more money – and time – if you buy good quality.
Make sure that you have cleaning supplies well-stocked. Let the guests know where they are, so they can use them whenever necessary. You may, however, secure the storage. It will help prevent unauthorised use.
If possible, have a monthly inspection, which will help you maintain your property's excellent standards.
When your clients leave feedback, be sure to read them thoroughly. If they mention anything about your home's cleanliness, keep it in mind. You may also pass it on to your hired cleaners.
The Finishing Touches
Even though you feel that your home is ready for the next guest, you should still take one last inspection. When you are content with the results, you can welcome the new client.
Of course, you should not forget about gifts for your guests, which may include chocolates, wine, vouchers, flowers, or bread. Have the welcome board ready, if you have one, and make sure it is set up with the names of the guests.
With the tips and tricks above, you will soon master how to handle cleaning for guest turnovers in your BnB property.